Amy's Story
"After 6 years of trying to get pregnant, with the NHS and other private investigations, all we were told was that my infertility was unexplained, which was very frustrating.
As someone with a high BMI, some clinics wouldn't even let us book a consultation. Even though I had a high BMI, I was fit and healthy so always felt a little cheated by an outdated means of deciding if I was eligible. When we did our research, we could see that Concept Fertility treated patients on an individual basis and my higher BMI didn't immediately exclude us.
At our very first meeting we were reassured that Concept Fertility could help us and discussed the different types of procedures offered. We decided to go for IVF.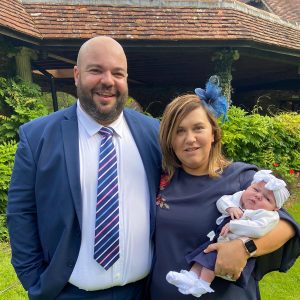 Fast forward a few months and we started our treatment. When I was initially scanned, immediately a blocked tube was picked up. We also discovered my other tube was also blocked.
This was a huge shock as both the NHS and other clinics had done these scans and neither had picked this up. We discussed what should happen next and decided that we would continue with stimulation and at every scan check the blocked tubes to see if this had changed. We were also told that due to the blocked tubes, if we did decide to go ahead with transfer, then our chances of a successful attempt would decrease further due to the fluid in my tubes being toxic to the embryo. We were thankful for this information as we could have just gone ahead and not made an informed decision. When we got to collection, my tubes were really blocked, so we decided along with the doctors that we would freeze the embryos, so that I could have my tubes removed. Once this happened, we could then start the process of transfer. This was February 2020! We found a private surgeon to remove my blocked tubes but this was delayed until September 2020 due to lockdowns.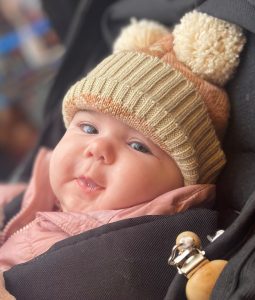 My operation was successful and after a few weeks we arranged to speak to Concept Fertility again to start the process of FET. It was agreed that we could start when I had my next period which happened early October 2020.
The world was now a very different place due to Covid, with most appointments now online. However, anything that needed to be discussed we could do via zoom or making a call with the clinic. Throughout this time all of the staff were calm, happy and always friendly. They also ensured that we felt safe and listened to.
Fast forward to early November and we received a phone call from Angela to tell me I was pregnant! I think I cried all day at work. I was totally shocked and feeling very blessed. At our 6 week scan, Adam was able to come along and we were able to see a tiny dot on the screen but that tiny dot meant so much to us.
After a straight forward pregnancy, we welcomed Isla into the world in July 2021.
We cannot thank you enough for everything you have done for us to make our little miracle happen".