It's fantastic to know that we have been able to truly help someone and make a difference in their life. That was the case for Hana, a single woman in her late 30s, who came to us after we were recommended to her by one of her friends. As a result, Hana now has a beautiful baby boy! Read on for Hana's full story.
"I decided that I wanted a baby in January 2012. I know exactly when it was. I'd been working at a new job for about 6 months and had decided I wasn't enjoying it so I had a real moment. It was the first Friday at work after Christmas and I decided to write down what it was that I felt I wanted and needed in order to feel whole. Amazingly that led to a load of decisions around: where I was living, my approach to money, what I wanted to do with work, family etc.
I bought a house with garden and a dog; spending less money so that in the future I could have the opportunity to potentially give up corporate work and maybe do something on my own. That made me realise that I would probably want a family one day.
I started to do some research in order to do things on my own (as a single woman); I was 32 at the time. I went to an open event at one of the big fertility clinics and ended up freezing some of my eggs. I decided that I wasn't quite ready to go ahead on my own, but my AMH was low so they advised the freezing. I said to myself: "let's see what happens now, if I get to 40 and I still don't have a family I will definitely think about revisiting the decision."
I was in a relationship for a while which ended and I realized that I was 38 and half and it wasn't long until that "40's moment". I needed to decide. Both my mum and a good friend of mine said to me "what are you waiting for?" and I realised that I didn't know."
Aware that her biological clock was running out, Hana attended one of our Open Days and she started her IUI treatment. She was drawn to us because she felt we were friendly and trustworthy, both key requirements for Hana.
"I came to Concept Fertility after a friend of mine recommended you. I really wanted a smaller clinic that had a friendlier feel, where I could feel that my money was well spent and that I wasn't paying for fancy offices! As soon as I arrived at the Open Day I knew that this was the place where I wanted to do it. Everyone there was really honest and I didn't feel that I was ever going to get any spin from anybody or people telling me things that weren't completely true or anything like that.
I went for my holiday in March and I came back in April to start my treatment. In my first cycle of IUI I was really excited and sort of exhilarated to start. I had some great appointments with Dr Kaur who was so reassuring and clear about everything so I was really positive.
I felt so positive that I thought the treatment was going to work the first time and when it didn't I actually wasn't disappointed, I was actually really pleased with how the cycle had gone. I ended up producing two eggs and that was really positive. I knew what the chances were, I wasn't surprised that it didn't work the first time and what I really liked was the fact that I could go straight into a second cycle so there was no hanging around.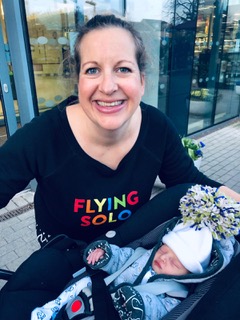 Everything that Dr Kaur said was really positive. My favourite thing that she said was when she was inseminating me: "Hana, we have now done everything that we could do. All of the circumstances are as good as they can be: you've got some fantastic sperm here, your lining is looking brilliant, all the conditions are right. Now it is down to Mother Nature." I will always remember that. It was so reassuring.
Interestingly though, in the second cycle I wasn't feeling positive at all. I was feeling quite negative.
That was really hard and lasted until pretty much the first three months of my pregnancy and then I managed to change the way I was thinking and fully embraced being pregnant. Due to the nature of the work that I do I was able to do some reading, look after myself, to do nesting and preparation and I got really excited about it.
There was a big contrast between the two cycles for me and it was so interesting that the one where I was so positive didn't work and the one where I wasn't feeling so positive did work. I think that you can only do a certain amount and then the rest is down to Mother Nature.
If I had to describe my fertility journey in bullet points I would say that it was:
Fantastically supportive
Trusted
Friendly
This is really important to me.
When I have certain experiences I like getting to know the people, particularly when you are going to be doing something that intense; this is one of the reasons why I decided to choose a smaller clinic. At a bigger clinic you might never see the same person twice.
At Concept Fertility, I like the fact I could come and say "Hi" to everybody and people would know me and I would start to know them too. That made me feel really good and made me feel like I was spending my money in a good place."
One of Hana's favourite things about Concept Fertility as a clinic is that everyone here was able to get to know her and welcome her into our practice, whilst also giving her knowledgeable information and comforting advice. Being able to trust us was a hugely important element for Hana and we didn't disappoint.
"I quite like to understand things myself and I always do quite a lot of research and stuff. I like to feel that I've been given really good information and that makes me trust people. I found that trust at Concept Fertility and I think that part of that was the fact that it's smaller and I was able to get to know people a lot more.
Some of my friends are thinking about fertility treatment and I can only tell them the truth of my own journey which has been incredibly positive in every aspect. Now that I know it really suits me, I would choose to do it like this over than with a partner. It's an extreme situation but I say it so people realise that it doesn't have to feel like you are expecting a plan B.
I think that that is helpful because people considering going ahead on their own can get quite stuck in the mind set of "why is it me that hasn't been able to find anybody" and "why have I been put in this position where I have to go through this treatment and deal with the fact that I am doing it on my own?" If you can financially afford it, the second part of the story doesn't have to be a second best. It can be amazing. So don't put too much emphasis on that fact that you're doing it on your own.
For those people who are looking for a clinic, I would recommend they work out what's most important to them. What was more important to me was trust and finding somewhere friendly where I felt that my money was really well spent.

When I started I wanted to try IUI and everyone at Concept has been really supportive. I think that a bigger clinic probably would have pushed me towards IVF treatment because of my age and that was a risk.
You are spending a lot of money and you should do what's most valuable for you.
Dr Harleen Kaur: a real focus for our patient.
Everyone has been super nice but my main focus was on Dr Harleen Kaur. She was my person here. She was the person whose opinion I really valued, who I developed a really strong relationship with, who I found incredibly supportive. I liked that she explained everything. I found that she was really genuine and authentic. She was definitely the biggest influence on me and I recommend her to everybody. She is amazing."
We wish Hana and her son all the best for their future together and we are proud to have been part of such a wonderful journey!